January
North American International Auto Show
The global automotive industry's premier event, showcasing next-generation vehicles and concept cars.
Local, national, and international carvers create spectacular and intricate designs.
Hosted by the influential and decades-old musical venue the Ark.
Charity event held in "Fashionable Ferndale", one of the
hippest parts of town.
February
Boats for fishing, skiing, cruising, pontooning, and everything in between.   Perfect event for the state with the most boats in the Midwest and rivaling Florida and California for most in the nation.
A hunting, fishing, and camping extravaganza featuring over 300 exhibitors.
Wilder and crazier first cousin of the North American
International Auto Show held in January.
March
Over 200 of metro Detroit's influential, unique and celebrated musical artists.
Products and services from flooring to rooftops are on
display at this popular exhibition.
April
Society of Automotive Engineers World Congress
Conference that brings together vehicle manufacturers,
suppliers, government, and academia from around the world for the exchange of ideas on the state of advanced automotive technology and business.
Detroit Tigers Opening Day at Comerica Park
The "boys of summer" arrive in the spring!
Honors Detroit area musicians working on a national,
regional and local level.
May
Country music extravaganza that kicks off the season of events at Hart Plaza.
Showcases aerial displays by a variety of military and
civilian aircraft at Selfridge Air Force Base.
Networking opportunity for industry professionals,
musicians, and fans as well as 400 bands from around
the world performing in over 40 Detroit venues.
St. Mary's Polish Country Fair
Proclaimed the nation's largest high school fair held on the grounds of acclaimed St. Mary's Preparatory.
MOVEMENT:  Detroit's Electronic Music Festival
Celebrating the world of electronic music including Techno, the unique sound invented in Detroit.
June
Outstanding visual and performing artists from around the world performing in Detroit's Cultural Center.
Susan G. Komen Race for the Cure Detroit
Thousands of Detroiters doing their part in the search for the cure.
Over 100 artists, an entertainment series, food and
more in Heritage Park.
Great Lakes Chamber Music Festival
World-class musicians performing classic and
contemporary chamber music in beautiful venues.
Belleville National Strawberry Festival
Over 200,000 people visit for the free entertainment,
attractions, and every type of strawberry treat imaginable.
Celebration of cruising along one of Detroit's primary boulevards.
Dearborn Arab International Festival
Carnival, arts, crafts, entertainment, and food in one of the largest Arab neighborhoods outside of the Middle East.
Celebrate the jazz and blues heritage of East Jefferson.
Michigan Challenge BalloonFest
State Championship hot air balloon competition and
festival.
More than 500,000 car buffs and enthusiasts enjoy the
sights and sounds along Fort Street.
International Freedom Festival & Fireworks
Celebration of the Detroit / Windsor friendship headlined
by an awe-inspiring fireworks display.
A great Detroit tradition is back with over $7 million in improvements to the Belle Isle track.
July
Over 400 artists and some of the finest contemporary art and crafts available in the United States.
That's right, Elvis is alive and well in Ypsilanti.
Meijer All-American Jam at the Taylor Summer Festival
Great music, a carnival, fireworks, and fun for the entire family.
Top-shelf, national musicians performing Country, Classic Rock, New Rock, and R&B in the state capitol.
Experience the thunder of hydroplane racing on the Detroit Riverfront.
A variety of free day-long jazz performances.
Recently named the number one art fair in the country by an AmericanStyle magazine readers' survey.
Farmington Area Founders Festival
Great artwork, food, and music are staples of this festival originally created to recognize the state's first Quaker settlement.
Hear the roar of the inboard hydroplanes on Sylvan Lake.
One of the greatest freshwater long distance yacht races in the world.
Another major Detroit cruisin' boulevard celebrates its heritage.
August
Unique fusion of arts fair, music festival, county fair, and multi-ethnic festival.
Century-old fair in a new location featuring great music, food, theater, and amusement rides.
Step back in time to a medieval world complete with
full-contact armored jousting.
The coup-de-grace of Detroit's cruise festivals.  Over a million participants and spectators annually celebrate along legendary Woodward Avenue.
Fundraiser that includes a strolling supper, live auction, fashion show extravaganza, entertainment and afterglow parties.
September
The largest free music event in North America -- over 120 bands in Detroit's Hart Plaza.
Art, cuisine, music, and humanity in downtown Pontiac.
Ranks among the best art fairs in the U.S. according to Sunshine Artist magazine.
Enjoy the art, history, and romance of the 1800's amid Northville's historic homes and tree-lined streets.
Awesome music festival in Detroit's Cass Corridor.
October
Detroit Free Press / Talmer Bank Marathon
Ranked one of the best marathon venues in North America by Marathon and Beyond Magazine.
International Gospel Music Hall of Fame and Museum Induction and Awards
Annual ceremony honoring the legends of gospel.
November
Meadow Brook Hall Holiday Walk
One of Detroit's Great Estates hosts an annual Holiday Walk through its amazing 110-room mansion.
Turkey Trot & Mash Potato Mile
Michigan's largest 10K run takes place just prior to the start of the America's Thanksgiving Day Parade.
Getting Detroiters into the holiday spirit since 1924.
December
Celebrate the city's diverse holiday traditions amid premier arts and cultural institutions, historic churches, and area galleries.
Breakfast with Santa at the Zoo
No milk and cookies for the big guy, but maybe some bacon and eggs.
The world-famous Rockettes strut their stuff at the Fox Theatre.
<![if !vml]>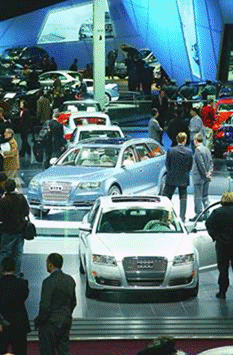 <![endif]>